MAG's Centennial Sculpture Park (CSP) Ribbon Cutting and Celebration Day are almost here! Join the Memorial Art Gallery on June 4 at 11 am for a Ribbon Cutting Ceremony to officially open Phase II to the community at the corner of University Ave and Prince Street.
MAG's Celebration Day will follow the Ribbon Cutting and includes lawn games from 12–4 pm (near the corner of Goodman & University); boxed lunches, snacks, and drinks for purchase from 12–4 pm; art projects with the Creative Workshop (under the tent) from 1–4 pm; performances from School of the Arts students at the Rashid Johnson Community Pavilion from 1–4 pm; NAMI (National Alliance on Mental Illness) informational table from 1–4 pm; and Yoga Under the Rainbow with Olivia, a friend of NAMI at 3 pm.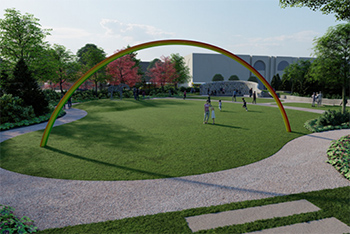 The Ribbon Cutting and Celebration Day mark the completion of Phase II and the establishment of a $1.2M endowment that will provide care for the park in perpetuity. In November 2022, the Sands Family Supporting Foundation, Inc., Constellation Brands, and Abby and Doug Bennett announced a challenge to the community to support MAG's Centennial Sculpture Park. Once MAG secured $500,000 in gifts and pledges, the aforementioned donors would generously match the community's support with another $500,000. With this, the Rashid Johnson Community Pavilion was officially named. MAG supporters generously contributed to reach the challenge and exceed it by more than $280K, fully funding the Centennial Sculpture Park endowment.
Phase II of Centennial Sculpture Park includes seven major works by influential contemporary artists:
Rashid Johnson (American, born 1977)
Broken Pavilion, 2022–23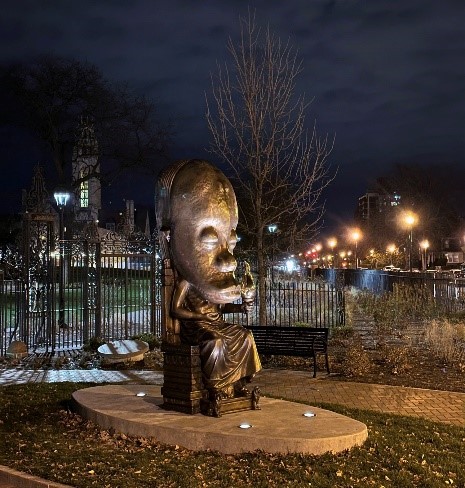 Pia Camil (Mexican, born 1980)
Lover's Rainbow, 2022
Sanford Biggers (American, born 1970)
Oracle, 2022
Jun Kaneko (American, born Japan, 1942)
Untitled, Dango, 2017
Nathan Mabry (American, born 1978)
Process Art (An Eye for An Eye), 2008
Deborah Butterfield (American, born 1949)
Untitled, 1996
Tony Cragg (English, born 1949)
Versus, 2013
MAG's Centennial Sculpture Park is an artistic urban oasis for the city of Rochester that is always open and always free. In the spirit of inspiring fun, which is fundamental to MAG's mission, these works of art are playful, flexible, smart, and provocative. Another equally important priority for the museum is to showcase important artists from underrepresented backgrounds with robust international reputations.
Sponsors of the Expansion
* Gifts of art | ** Gift in kind
$500,000+
David H. Brush *
Empire State Development,
with the support of the Office of the Governor
and the New York State Legislature
Estate of Elizabeth Plumb Miller
Nancy B. Miller
$250,000–$499,999
Robert B. and Pamela M. Goergen *
Sandra Hawks Lloyd and Justin Hawks Lloyd
Sands Family Supporting Foundation, Inc.
$100,000 – $249,999
Abigail J. and Douglas S. Bennett
Constellation Brands, Inc.
Gallery Council of the Memorial Art Gallery
The Gallina Family
Mrs. Gwen M. Greene, in memory of John D. Greene
Kathleen E. Landers and Peter J. Landers
New York State Council on the Arts,
with the support of the Office of the Governor
and the New York State Legislature
$25,000–$99,999
Anonymous Donor
Bayer Landscape Architecture, PLLC **
Margaret M. and David J. Burns
Davenport-Hatch Foundation
Maureen and Robert Dobies
Howard and Wilma Kaye *
Paul Marc and Pamela Miller Ness
$10,000–$24,999
Sonya and Quincy Allen
Sarah M. and Robert W. Hurlbut
Jane Colangelo
Laura L. Fulton and Martin P. Zemel
Giuseppe Erba and Mark Pierzynski
Hanna Properties, LLC
Cecelia Horwitz and Floyd Tucker
Cornelia Klein
Dale and Joseph Klein
Pike Construction Services
Janet Reed
Mary Ann Monley and William D. Rice
Sharon and Robert A. Napier
$1,000–$9,999
Anonymous Donor
Marlies Anderson
Jody and Bob Asbury
Nancy S. and Peter O. Brown
Heidi Friederich
Robert and Mary Koegel
Leslie Scott Lindler
Marcia Lowry
Charles E. and Margaret Symington
Kristin Vanden Brul
$100–$999
Diane and Robert Boni
Mary Ellen Burris
Natalie and J. Richard Ciccone
Stephen Dewhurst
Walter B. Hickey, Jr.
Daniel Holland
Marilyn Merrigan
Dr. Vivian Palladoro
Ron and Cathy Paprocki
Karen P. Selwyn