The Memorial Art Gallery welcomes to all visitors to enjoy its collections, exhibitions, buildings, and grounds. Additionally, MAG is committed to offering programs and services that are accessible to everyone. This includes our events rooms, the Auditorium, The Creative Workshop, and THE STORE @ MAG. To inquire about or request accommodations for any program or event or to arrange a tour designed to accommodate individuals with disabilities, please contact access@mag.rochester.edu or call 585.276.8971 two weeks in advance to your visit.
Parking
Free visitor parking is available in all lots on the museum grounds.
Designated spaces are available for visitors with disabilities in parking lots A, near the University Avenue entrance, and D, near the rear entrance. The clearance is six feet, six inches (6′ 6″). Both entrances are fully accessible.
Service Animals
Service animals are always welcome at MAG.
Wheelchairs
The Museum is accessible to wheelchair users via elevators and wheelchair seating in the Auditorium. A few wheelchairs are available free of charge at coat-check areas on a first-come, first-served basis. Inquire at the Admission Desk. Coatroom and free lockers are also available.
Elevators
There are two elevators in the museum: in the Vanden Brul Pavilion, one is located next to the stairs to Cutler Union, on the side closest to University; in the Galleries, one is located at the far end, next to the stairs near the Lockhart Gallery. The Creative Workshop is accessible through the elevator in the Vanden Brul Pavilion. Elevators are marked on the museum maps, available online or at the Admissions Desks.
ASL Interpretation
All public programs/classes/tours are interpreted upon request. Many programs are regularly interpreted in ASL, which is indicated in the event information. To submit a request, please contact access@mag.rochester.edu or call 585.276.8971 two weeks in advance to your visit.
For Visitors Who Are Blind or Are Experiencing Vision Loss
MAG offers touch tours and verbally described tours on request. All are invited to touch the artwork in the Centennial Sculpture Park and to listen on their cell phones to recorded poetry and stories in the adjoining Poets Walk and Story Walk.
To schedule touch tours, please contact tours@mag.rochester.edu.
We offer the following resources in our library, which are accessible during the library's open hours:
Audio and Self-Guided Tours
The Memorial Art Gallery offers audio descriptions of selected works of art in our collection to visitors. These descriptions are available as recordings on our website.
Hearing Loop
MAG Auditorium is equipped with an "induction loop" assistive listening system. This system is made possible by the Mark and Bobbie Hargrave Hard of Hearing Fund of Rochester Area Community Foundation, the Memorial Art Gallery Community Access Endowment Fund, and an anonymous donor.
Community Partnerships
The following programs are available in partnership with community organizations. Check the program pages to learn how to arrange a visit.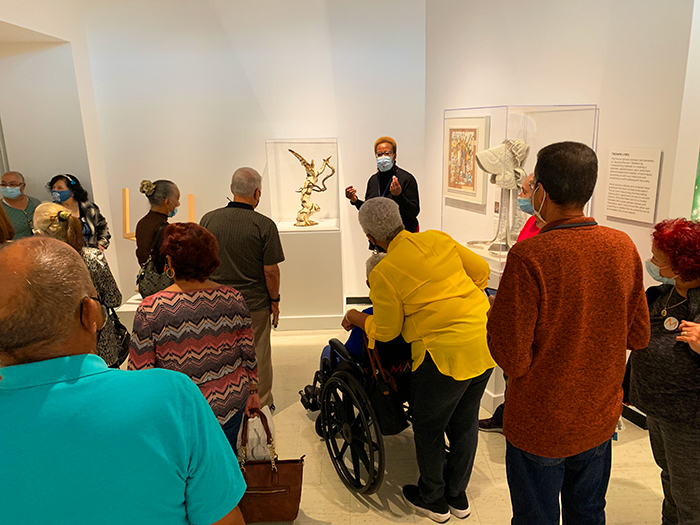 To make Memorial Art Gallery exhibitions and programs accessible to a broad and diverse audience, MAGconnect offers free transportation, complimentary admission, and a one-year MAG membership to community residents who qualify for participation in the program.
Art can suggest memories, thoughts and feelings in individuals with dementia. MAG offers a tour program designed so individuals with dementia and their care partners can spend time together at the museum enjoying art.