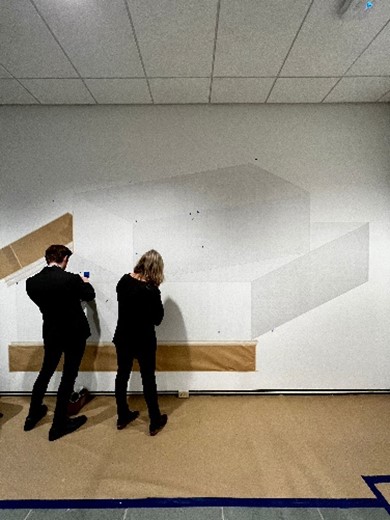 In late 2022, the Rochester community was invited to watch the installation of a major mural-scale drawing in the Memorial Art Gallery. Fifteen years after the death of artist Sol LeWitt (1928 – 2007), his iconic Wall Drawing #957: Form Derived from a Cube was rendered directly on a wall in the Vanden Brul Pavilion by a representative of the LeWitt Estate, along with an artist from the Rochester community.
The installation was also live-streamed to viewers on their devices, to truly make everyone part of the process. Anyone can still experience the installation by watching the time-lapse video created by Floating Homes on MAG's YouTube channel: https://www.youtube.com/watch?v=ds4TYDlSfTo&t=14s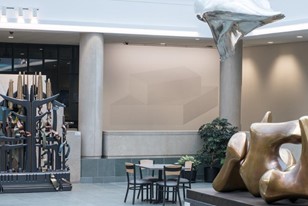 The generous gift, from an anonymous donor, of LeWitt's Wall Drawing #957: Form Derived from a Cube will remain on long-term display as a new centerpiece of MAG's small but growing collection of conceptual art. The addition of this work creates an exciting opportunity to introduce conceptual art to Rochester audiences–through guided tours that took place during the installation in November 2022 and a public lecture planned for spring 2023.
Sol LeWitt was a pioneer of conceptual art. Wall Drawing #957: Form Derived from a Cube is an iconic example of the artist's career-long exploration of his signature Wall Drawing format. LeWitt created over 1,270 Wall Drawings, which exist essentially as certificates of authenticity that are signed by the artist. Each certificate includes written instructions for how to execute the work, which is done in coordination with the LeWitt Estate. MAG owns this work of art, which is to say it owns the certificate of authenticity. Therefore, MAG has the right to install Wall Drawing #957: Form Derived from a Cube in one location at a time.
In conceptual art the idea or concept is the most important aspect of the work. When an artist uses a conceptual form of art, it means that all of the planning and decisions are made beforehand and the execution is a perfunctory affair. The idea becomes a machine that makes the art.

Sol LeWitt
Wall Drawing #957: Form Derived from a Cube, was first executed in 2000 at the Whitney Museum of American Art. It features two forms, each derived from a cube with the same dimensions and equal interior volumes. Horizontal, vertical, diagonal left, and diagonal right lines make up the forms. The more these lines overlap, the darker and denser the depicted planes seem to be. Because the forms are angled toward the viewer, they appear relatively flat despite the illusionistic rendering of space and volume.