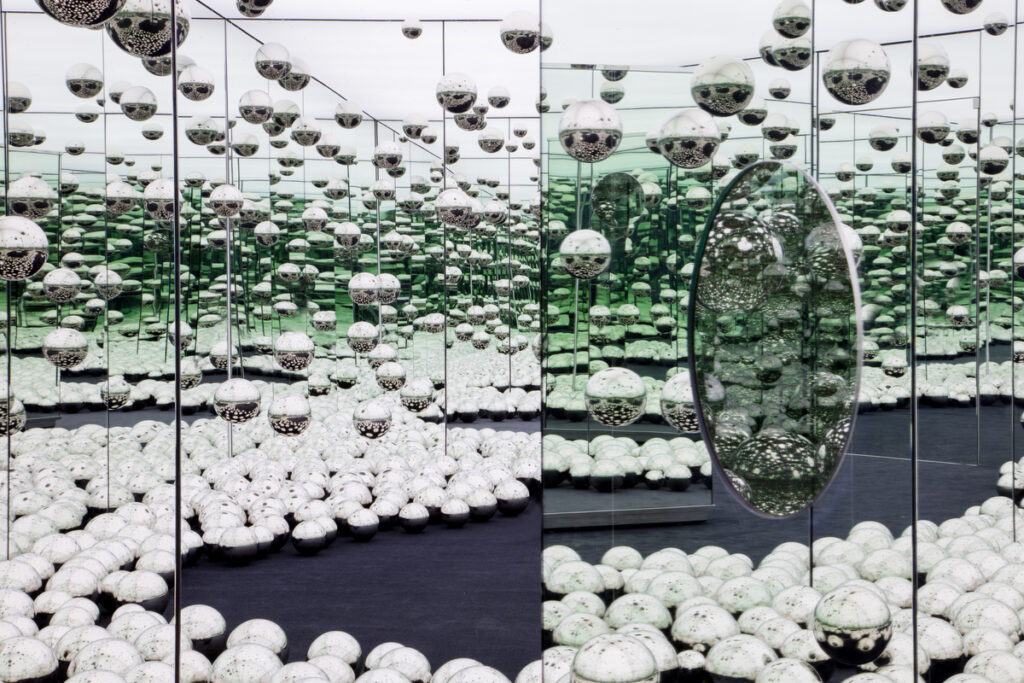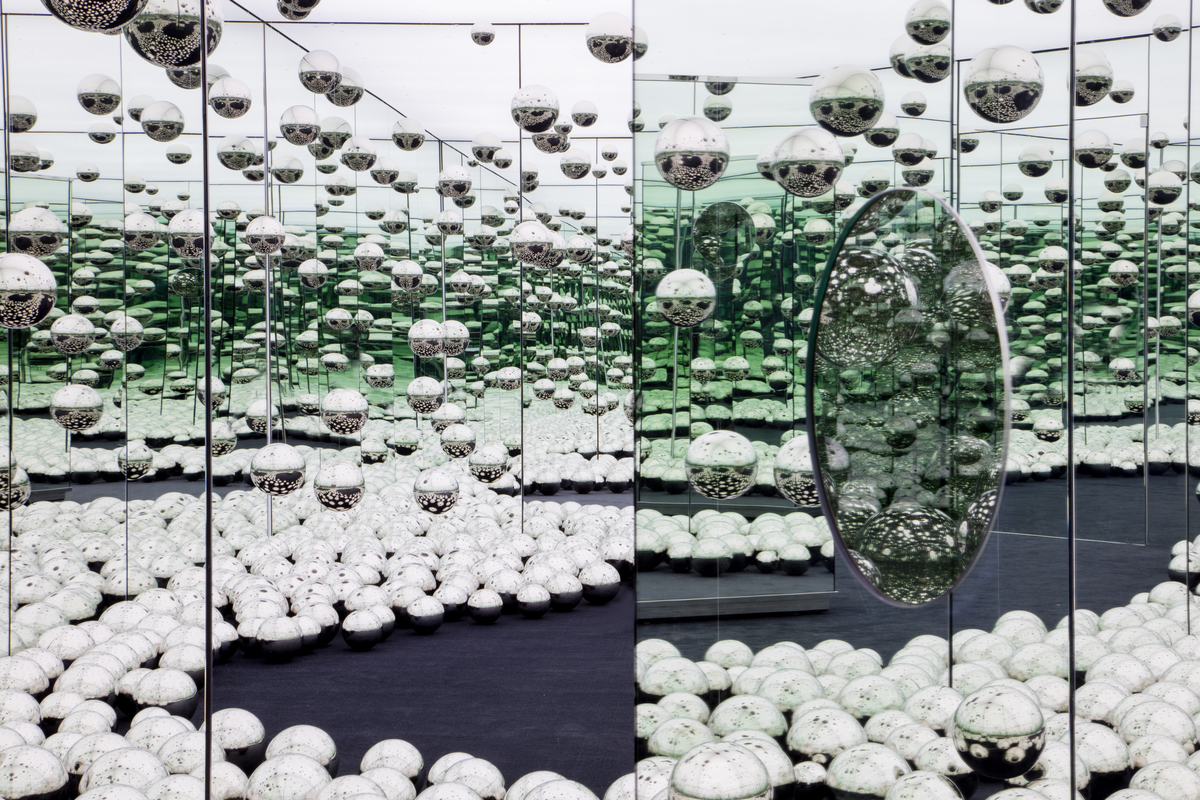 From September 14, 2023, to May 5, 2024, the Memorial Art Gallery will present one of Yayoi Kusama's iconic immersive installations, INFINITY MIRRORED ROOM – LET'S SURVIVE FOREVER, 2017, on loan from the Art Gallery of Ontario.
MAG invites visitors to come and behold the boundless imagination of Yayoi Kusama. Entering the installation will require a timed-entry ticket. Please note that timed tickets to view INFINITY MIRRORED ROOM – LET'S SURVIVE FOREVER can only be obtained in person at the admission desk on the day of your visit for an additional $5. MAG members may receive a timed ticket, in person, at the admission desk for free. Not a member yet? Join today! (All reservations are on a first-come, first-served basis.) For complete general ticket admission and timed-entry details, please visit https://mag.rochester.edu/visit/.
Throughout the run of the Kusama installation, MAG will highlight artwork by women artists in the permanent collection. With Represent: Great Women Artists at MAG, the museum celebrates women artists as it acknowledges the remaining work to be done in collecting, exhibiting, and championing women artists. Represent includes an exhibition of recent acquisitions in the introductory Forman Gallery, accessible activities for visitors to discover work by women artists throughout the museum's first- and second-floor galleries, and public programs that will delve deeper into the topic. The Forman Gallery will include Yayoi Kusama's Statue of Venus Obliterated by Infinity Nets, 1998; three recent acquisitions by contemporary artists Rozeal, Renée Stout, and Zandile Ntobela.
MAG invites visitors and the greater Rochester community to attend programming, including pumpkin painting in October, Curator Tours on Represent: Great Women Artists at MAG in December and March, and a lecture on fashion and art slated for February, with more programming to come; additional details are available at https://mag.rochester.edu/programs-events/.
Organized by the Memorial Art Gallery with the generous support of the Art Gallery of Ontario.
In Rochester, the presentation is sponsored by the Rubens Family Foundation, Heidi Friederich, Allyson and Sanjay Hiranandani, Todd Bennett Levin, Dr. Dawn F. Lipson, the McDonald Family, Marion Swett Robinson, Woods Oviatt Gilman LLP, and an anonymous donor. Support is also provided by Mary Ellen Burris, the Gouvernet Arts Fund at the Rochester Area Community Foundation, James C. and Geraldine Biddle Moore, Janet S. Reed, Barbara and George Segel, Albert L. and Laura A. Swett, and an anonymous donor. Additional funding is provided by Kristin Vanden Brul, Courtney and Mike DeRisio, Barbara Frank, Harter Secrest & Emery LLP, and James and Marguerite Quinn.
This installation is supported by a Market New York grant awarded to Memorial Art Gallery by Empire State Development and I LOVE NY/New York State's Division of Tourism through the Regional Economic Development Council initiative.
The presentation is also made possible by the Robert L. and Mary L. Sproull Fund and the Nancy R. Turner Fund for Special Exhibitions.
ARTWORK IMAGE CREDIT
Yayoi Kusama. INFINITY MIRRORED ROOM – LET'S SURVIVE FOREVER, 2017. Wood, metal, glass mirrors, LED lighting system, monofilament, stainless steel balls, and carpet, Installed: 312.4 × 624.8 × 622.9 cm (123 × 246 × 245 1/4 in.). Organized by the Rochester Memorial Art Gallery with the generous support of the Art Gallery of Ontario. Purchased with funds from the David Yuile & Mary Elizabeth Hodgson Fund, Michelle Koerner & Kevin Doyle, Robert Dorrance & Gail Drummond, The Schulich Foundation, Soichiro & Junko Yamamoto, Diane Bald & Michael Budman, Don & Denyse Green, DH Gales Foundation, Maxine Granovsky Gluskin & Ira Gluskin, Barry Appleton & Magaly Bianchini, Emmanuelle Gattuso, Sheryle & David Saunders, Robin & David Young, Laura E. Baldini, Diana Billes, Edison Chai, Julian Chan & Yi Hyun Park, The Francis and Denise Connolly Family, Creeds, Eileen Farrow, Ivan Fecan & Sandra Faire, Hallisey Family, Victoria Jackman, Val Koziol, David Kozman & Kristin Blakely-Kozman, The Charles & Jane Kucey Foundation Fund, Jämes Lee & the Julie Institute, Chelsea Longaphy & Bernie Li, Martha LA McCain, Abby, Perry & Jordan Minuk, Carolyn D. Mullin, Samuel & Alice Peralta, In Memory of Pierrette & Abel Rancourt, Heather & Aaron Regent, Shevlen Family, Mary Sinclair, Jay Smith & Laura Rapp, J. Kenneth & Margaret Syer-Torrance, and the generosity of thousands of art lovers, 2018. ©YAYOI KUSAMA. Courtesy of the artist, David Zwirner, Ota Fine Arts, and Victoria Miro. Photo AGO. 2018/28