On loan from the American Folk Art Museum, courtesy of Art Bridges, the installation of eight paintings by self-taught artist Clementine Hunter in the Brush Gallery reveals the unique story of a Black woman who discovered her creativity late in life. The installation is on view at MAG, beginning August 4, 2023, and will be ongoing.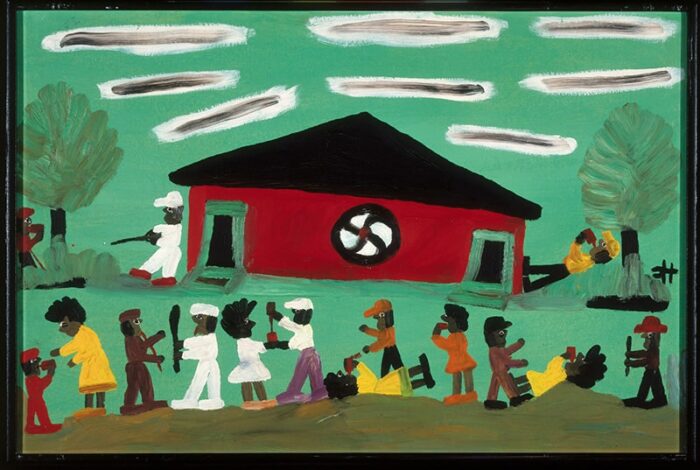 How did a sharecropper in the American South, born just twenty-two years after slavery was abolished, become a celebrated artist? Artist Clementine Hunter's paintings focus on Black people, featuring lively, simplified figures celebrating work and play in vibrant scenes of everyday rural Southern life. When she died at 101 years old, her work was exhibited across the United States. Today, her lively paintings, remarkable life, and prolific output have established her reputation as one of the country's most significant self-taught artists of the twentieth century.
In 1953 she gained national attention after Look magazine published an illustrated article about her. Two years before her death, in 1986, Clementine Hunter received an honorary doctorate degree in fine arts from Northwestern State University of Louisiana, a previously segregated university that in the 1960s had not allowed her on campus to view an exhibition of her own work. The Clementine Hunter installation will be supplemented with landscapes by other self-taught artists in MAG's permanent collection and examples of Inuit stone sculptures featured in the Selwyn display case.
---
Generously lent by American Folk Art Museum as part of Art Bridges' Collection Loan Partnership.