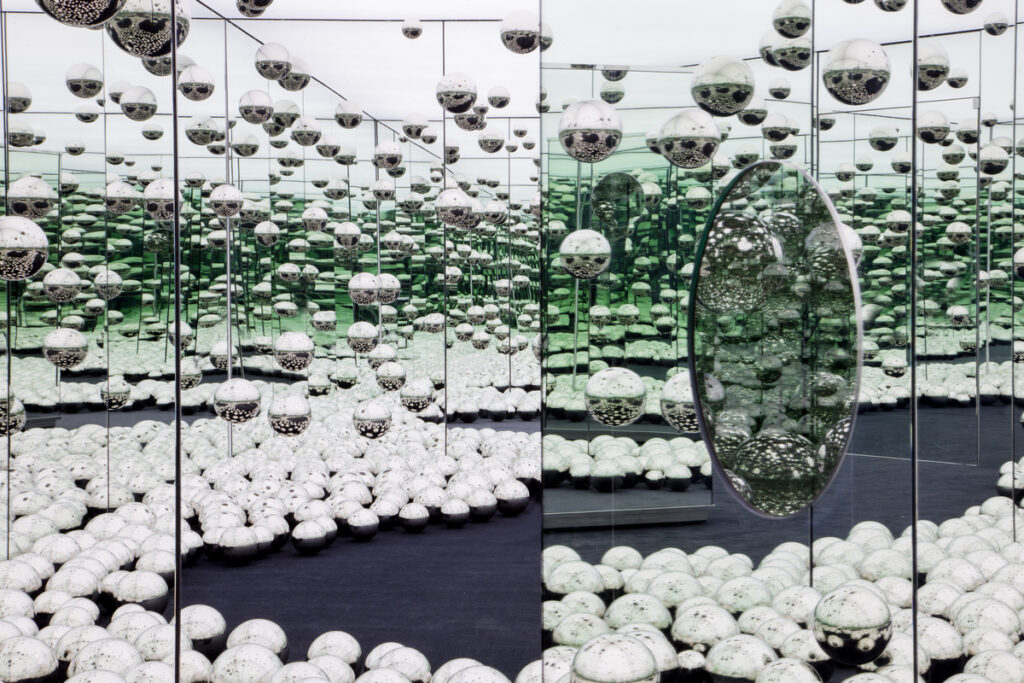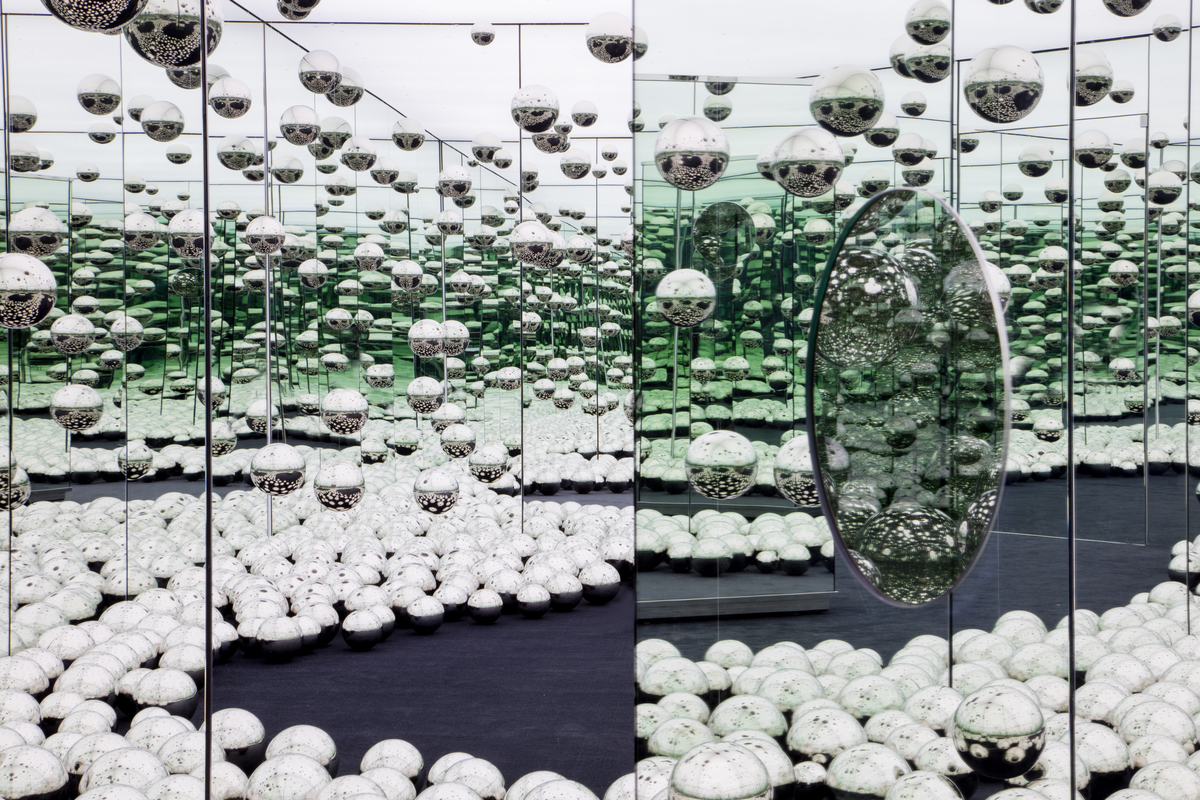 Globally celebrated artist, Yayoi Kusama, will be featured at the Memorial Art Gallery beginning in September. On loan from the Art Gallery of Ontario, one of her iconic immersive installations, INFINITY MIRRORED ROOM – LET'S SURVIVE FOREVER, 2017, will be presented to the Rochester community from September 14, 2023–May 5, 2024.
INFINITY MIRRORED ROOM – LET'S SURVIVE FOREVER, 2017, is an environment unto itself—visitors will not "view" it but rather "experience" it. Building on her frequent themes of repetition and obliteration, Kusama's work invites visitors into a seemingly infinite field of silver orbs. The work captivates them with mirrored spheres suspended from the ceiling and arranged on the floor. MAG invites you to come and behold the boundless imagination of Yayoi Kusama. Details on how to make your reservations are coming soon, but if you want to guarantee a reservation, become a member today! Visit mag.rochester.edu for details.
Yayoi Kusama Biography
Born in 1929 in Matsumoto City, Nagano, Prefecture, Japan. From a young age, Yayoi Kusama experienced visual and auditory hallucinations and began creating net and polka-dot pattern pictures. In 1957, she went to the United States and began making net paintings and soft sculptures, as well as organizing happenings and developing installations that made use of mirrors and lights, establishing herself as an avant-garde artist. Kusama discovered an artistic philosophy of self-obliteration via the obsessive repetition and multiplication of single motifs, which has informed her work throughout her career. Yayoi Kusama represented Japan at the 45th Venice Biennale in 1993 and lives and works in Tokyo, where the Yayoi Kusama Museum opened in October 2017.
Over the past decade, there have been museum exhibitions of Kusama's work in North America, Japan, Korea, Singapore, China, Australia, Russia, Brazil, Argentina, Mexico, Chile, Spain, England, France, Denmark, Norway, Sweden, Finland, Canada, Taiwan, Indonesia, Germany, and Israel. In 2016, Kusama received the Order of Culture, one of the highest honors bestowed by the Imperial Family of Japan. Kusama is the first woman to be honored with the prestigious medal for drawings and sculptures.
Recent exhibitions include Yayoi Kusama: 1945 to Now at M+, Hong Kong November 12, 2022–May 14, 2023; Yayoi Kusama: Infinity Mirror Rooms at Tate Modern, London, UK May 18, 2021– April 28, 2024; One with Eternity: Yayoi Kusama in the Hirshhorn Collection, Hirshhorn Museum and Sculpture Garden, Washington DC April 1, 2022 – July 16, 2023.
---
In Rochester, the presentation is sponsored by Todd Bennett Levin, the Rubens Family Foundation, and an anonymous donor, with additional support from Heidi Friederich, the Gouvernet Arts Fund at the Rochester Area Community Foundation, James C. and Geraldine Biddle Moore, Barbara and George Segel, and an anonymous donor. Funding is also provided by Kristin Vanden Brul, Barbara Frank, and James and Marguerite Quinn.
This installation is supported by a grant awarded to Memorial Art Gallery by Empire State Development and I LOVE NY/New York State's Division of Tourism through the Regional Economic Development Council initiative.
The presentation is also made possible by the Robert L. and Mary L. Sproull Fund and the Nancy R. Turner Fund for Special Exhibitions.
Yayoi Kusama. INFINITY MIRRORED ROOM – LET'S SURVIVE FOREVER, 2017. Wood, metal, glass mirrors, LED lighting system, monofilament, stainless steel balls, and carpet, Installed: 312.4 × 624.8 × 622.9 cm (123 × 246 × 245 1/4 in.). Organized by the Rochester Memorial Art Gallery with the generous support of the Art Gallery of Ontario. Purchased with funds from the David Yuile & Mary Elizabeth Hodgson Fund, Michelle Koerner & Kevin Doyle, Robert Dorrance & Gail Drummond, The Schulich Foundation, Soichiro & Junko Yamamoto, Diane Bald & Michael Budman, Don & Denyse Green, DH Gales Foundation, Maxine Granovsky Gluskin & Ira Gluskin, Barry Appleton & Magaly Bianchini, Emmanuelle Gattuso, Sheryle & David Saunders, Robin & David Young, Laura E. Baldini, Diana Billes, Edison Chai, Julian Chan & Yi Hyun Park, The Francis and Denise Connolly Family, Creeds, Eileen Farrow, Ivan Fecan & Sandra Faire, Hallisey Family, Victoria Jackman, Val Koziol, David Kozman & Kristin Blakely-Kozman,The Charles & Jane Kucey Foundation Fund, Jämes Lee & the Julie Institute, Chelsea Longaphy & Bernie Li, Martha LA McCain, Abby, Perry & Jordan Minuk, Carolyn D. Mullin, Samuel & Alice Peralta, In Memory of Pierrette & Abel Rancourt, Heather & Aaron Regent, Shevlen Family, Mary Sinclair, Jay Smith & Laura Rapp, J. Kenneth & Margaret Syer-Torrance, and the generosity of thousands of art lovers, 2018. ©YAYOI KUSAMA. Courtesy of the artist, David Zwirner, Ota Fine Arts, and Victoria Miro. Photo AGO. 2018/28