In Praise of Trees showcases the work of the contemporary Japanese-Canadian print artist Naoko Matsubara (b. 1937). The exhibition presents 39 woodcuts from her portfolio In Praise of Trees; each print represents a single tree or a quality associated with trees, such as hardness, strength, stability, and vitality.
The portfolio includes woodcuts that Matsubara originally designed for a book she published in 1984, a year before the work in this exhibition was created. In the book, individual prints of trees were paired with a wide variety of poems by different poets. She determined that this singular portfolio, however, would focus on the woodcuts and would include an artist's statement; a poem written specifically for her work by Robin Skelton, Wood; and statements by The Honourable John Roberts, Canadian Minister of the Environment, and Harry Somers, the influential Canadian composer.
She writes in her artist's statement that the work is rooted in her childhood experiences at Kenkun Jinja, the Shinto shrine in Kyoto where her father was chief priest. She recalls "the joy with which I had gazed at the gnarled branches of aged pines, at giant oak or gingko trees, with their infinitely varied shapes. Kyoto too came back to me; that ancient city steeped in the culture of the Japanese court, the Buddhist monasteries and the Shinto shrines, and bowered with gardens, sacred woods, and hills."
About the Artist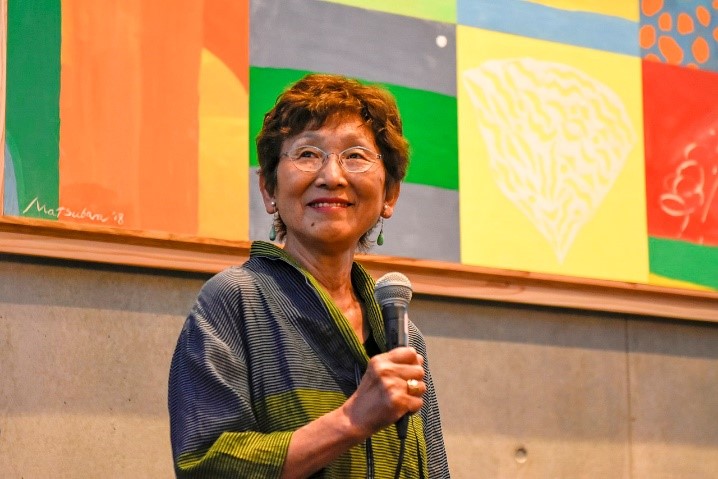 Naoko Matsubara, whose father was the chief priest at a Shinto Temple in Kyoto, graduated from the Kyoto Academy of Fine Arts and was a Fulbright scholar at the Carnegie Institute of Technology. She went on to study at the Royal College of Art in London before returning to Japan in 1963. In 1965, she returned to the United States and New York City, where she was an assistant to the noted wood-engraving artist Fritz Eichenberg. She also taught at Pratt and the University of Florida. She moved to Canada in 1972. Her work is in major public institutions, including the British Museum; the Philadelphia Museum of Art; Museum of Fine Arts, Boston; Yale University Art Gallery; the Art Institute of Chicago; and the National Museum of Modern Art, Tokyo.