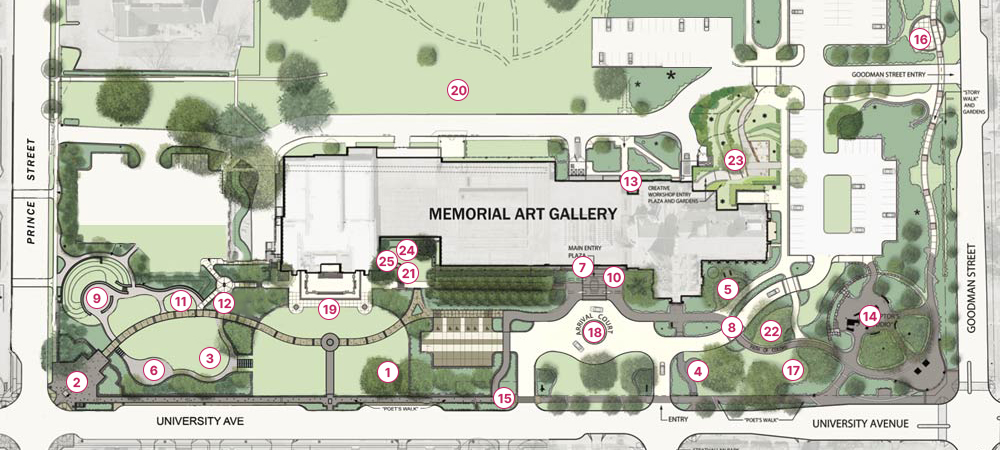 Works in the Park
1. Deborah Butterfield, Untitled, 1996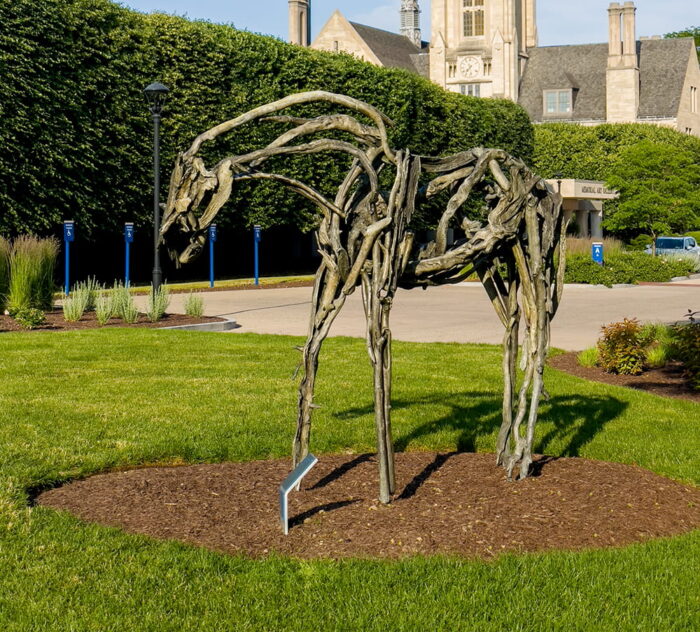 Deborah Butterfield has been creating horses from bronze for decades. Her sculptures, cast from actual branches found on her farm in Montana and her second home in Hawaii, provide both a skeletal shorthand framework for a horse's body and a visual experience in positive and negative spaces. She chooses the pieces of wood carefully, arranging them into the desired shape, and then dismantles the structure and casts the pieces individually in bronze, reassembling the finished elements back into the horse's figure.
2. Sanford Biggers, Oracle, 2022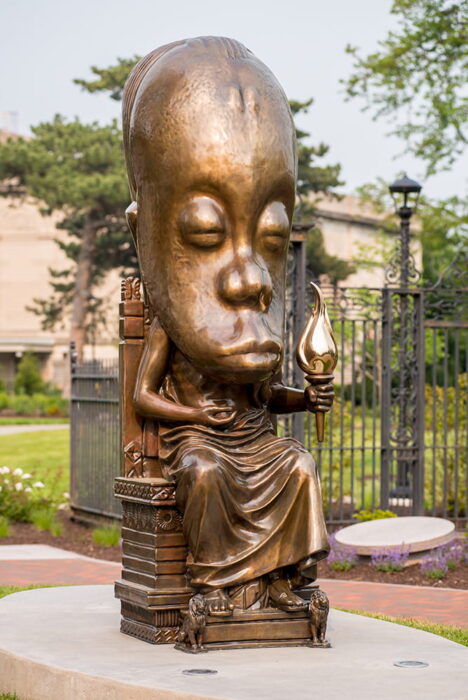 Oracle, Sanford Biggers' bronze sculpture finished with a gold patina, is a nine-foot version of a 25-foot sculpture the artist installed at Rockefeller Center in 2021. MAG's version welcomes visitors to the Sculpture Park at the corner of University Avenue and Prince Street. This sculpture is part of Biggers' ongoing Chimera series, in which the artist plays with narrative, perspective, and history. With Oracle, Biggers merges examples from classical traditions in Greco-Roman and African sculpture.
3. Pia Camil, Lover's Rainbow, 2022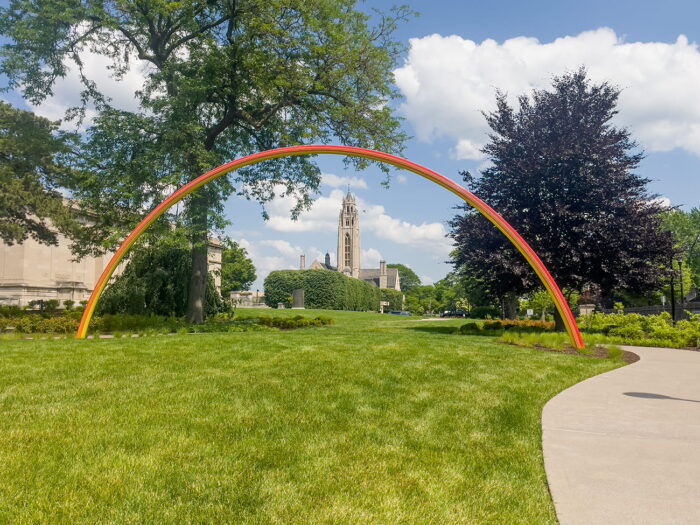 Pia Camil's Lover's Rainbow takes its place among the highlights of Rochester's cityscape. The monumental 42 x 16 ½-foot structure is made of colorfully painted stainless-steel rebar. As a construction material used to reinforce concrete's structural integrity, rebar is typically visible only when a building is in ruins or incomplete. With her Lover's Rainbow, Pia Camil creates a vision of hope and love using a material that speaks to the challenge of building something that will last. We hope Rochestarians say "Let's meet at MAG's rainbow!"
4. Wendell Castle, Unicorn Family, 2012-13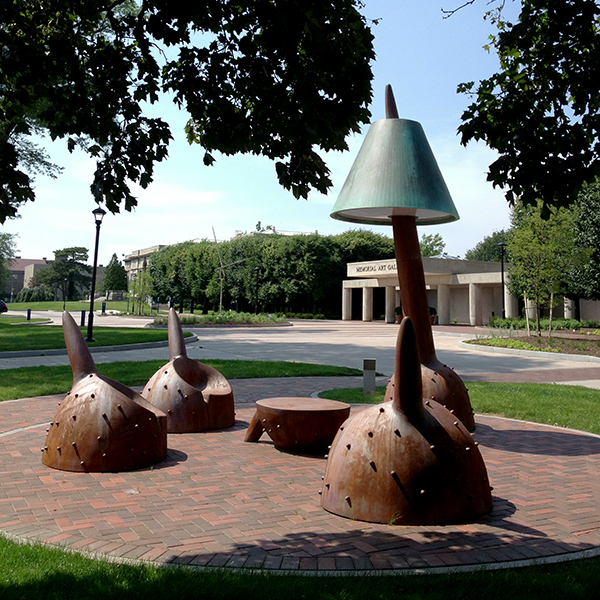 Wendell Castle was an American artist and a leading figure in American craft. He is often credited with being the father of the art furniture movement. His bold and graceful pieces, often organic, and sometimes whimsical, are crafted from rare and beautiful hardwoods, plastics, veneers, and metals in a timeless contemporary style. His expression of color and exotic materials are synonymous with the Wendell Castle name.
Rochester's own Wendell Castle's (1932–2018) work provides an outdoor grouping of chairs, a table, and a lamp for visitors who would like to spend some time enjoying the passing scene. The Memorial Art Gallery commissioned this monumental cast-iron sculpture by Castle as one of the anchor installations of its Centennial Sculpture Park. The piece, Unicorn Family measures 22 feet in diameter and consists of a gathering area with a table and three chairs and a 13-foot LED lamp.
5. Ettore Colla, Meridian, 1967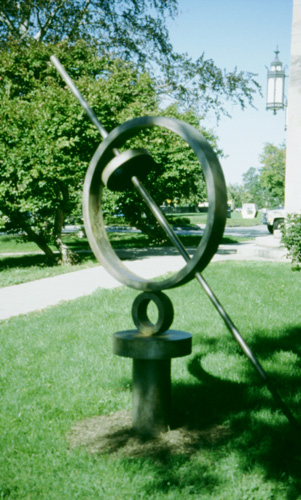 A meridian is a circle of constant longitude passing through a given place on the earth's surface and the terrestrial poles. The word can also refer to noon. This sculpture, named Meridian, is reminiscent of a sun-dial, with circles and cylinders balanced upon one another. A long pole bisects the largest circle, passing through a floating disc which itself holds an empty circle to one side.
Colla was born in Parma in 1896 and attended the Academy of Fine Arts there as a young man. In 1923 he moved to Paris and worked alongside Constantin Brâncuși and Émile-Antoine Bourdelle. In 1926 he returned to settle in Rome and worked there for the rest of his life. He would go on to exhibit in the Venice Biennale several times, as well as at exhibitions in London, New York, and other venues around the world. In 1967, the year MAG's work was made, he was part of an international collective at the Guggenheim. He died the next year in Rome at the age of 72.
6. Tony Cragg, Versus, 2013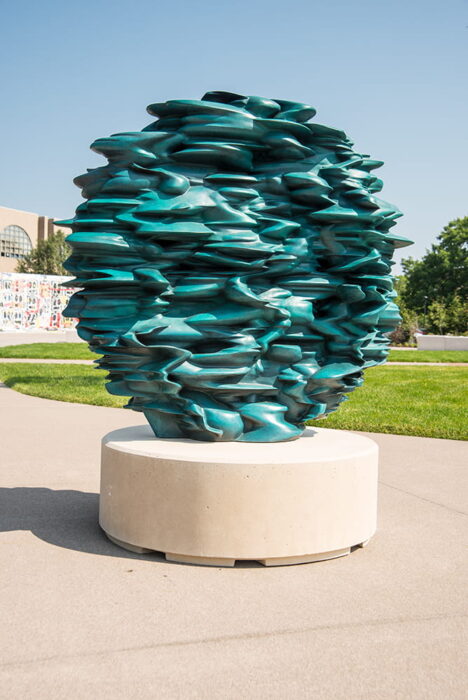 Tony Cragg has used the title Versus for a number of related works. First created in 2011 from lacquered plywood, the pieces in the series have taken many sizes and colors over the years, but each piece retains its form as a stack of worn, flattened shapes. Seen in silhouette, Versus resembles a stack of faces in profile, with visible noses and lips. As a young man, the artist's career included a stint in a rubber factory and one in a foundry, suggesting an interest in the transformation of material into a different form.
7. Sam Durant, Knowledge is Power!, 2015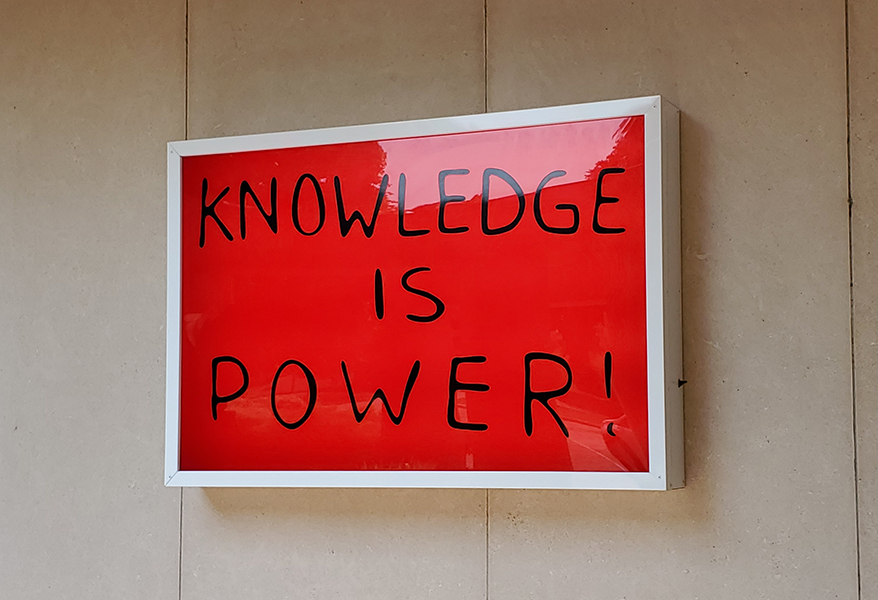 Artist Sam Durant lives and works in Los Angeles. Through a variety of media, his work explores relationships between politics and culture, often referencing American history or current events. Commercially produced signs like this one are one of the ways Durant engages the themes of protest and struggle.

Durant takes the text for his signs from photos of protests and other events surrounding liberation conflicts. The source photo for Knowledge is Power! documents protesters who responded to the violent death of Michael Brown in Ferguson, Missouri, in 2014. While the text itself is from a specific handmade sign and a particular event, the artist intends for the message to stand apart from its origin and to take on new meaning dependent upon its context.
8. Jackie Ferrara, Marking Crossways, 2011-12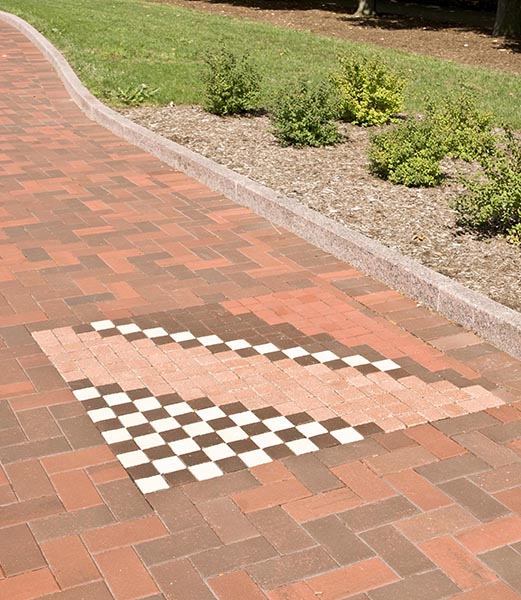 In collaboration with landscape architect Mark Bayer, Jackie Ferrara designed site-specific elements that mark waypoints in the park. Running from Tom Otterness's Creation Myth to Tony Smith's Playground is the Path of Colors, where dark bricks are arranged to spell out the names of the primary and secondary colors in Morse code. At the front entrance, Ferrara uses Morse code again to spell out "Memorial Art Gallery" and "University of Rochester". Twelve unique geometric 'cameos' incorporating multiple colors embellish the walkways leading from University Avenue to the front entrance, leading visitors past Albert Paley's Millennium Bench and Wendell Castle's Unicorn Family. Even the turning circle around George Rickey's kinetic Two Lines Up Excentric includes carefully calibrated brick stripes that narrow and widen and narrow again, echoing the shifting movement of the stainless steel blades in the center.
Ferrara describes what she does as "creating places.…I look for ways to integrate different kinds of information, sometimes apparent, sometimes subtle, but always intending to offer an experience of unfolding discovery."
Jackie Ferrara has designed and built courtyards, terraces, and architectural structures since the early 1970s. Ferrara is one of several artists who emerged during the seventies by using the forms and materials usually associated with architecture in order to enrich the definition of sculpture and challenge the assumptions and conventions of the typical built environment. Ferrara's complexly patterned paved areas, based on a grid system, transform bland outdoor plazas or indoor lobbies into animated spaces which help to enliven or accentuate their architectural context.

The Stuart Collection at UC San Diego
9. Rashid Johnson, Broken Pavilion, 2022-23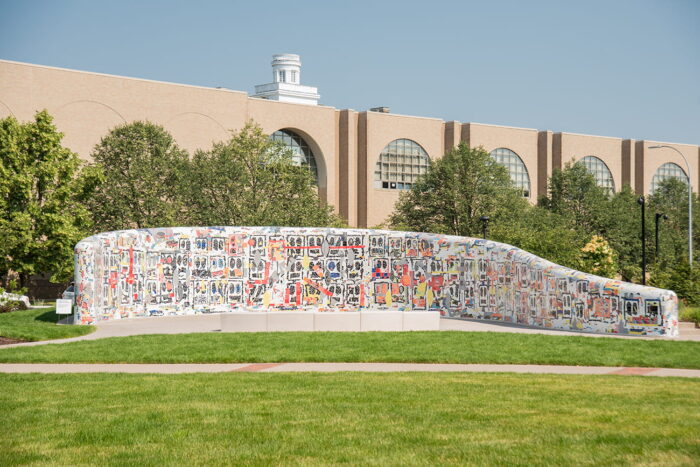 SOTA students were the inspiration for this commissioned sculptural pavilion. When Johnson visited MAG to explore ideas for a new work of art, he was drawn to the Black and Brown students mingling on Prince Street. Johnson asked MAG staff if SOTA's students visited the museum. He was told they did but the museum would like them to come more often. Johnson decided to design a work with these students in mind that would also invite and serve the community-at-large.
The sculpture's curved form embraces all who approach it, and its interior features a built-in audience made up of nongendered, non-raced faces—this is an audience that represents everyone and anyone. Johnson wants this to be a place where SOTA's developing artists, as well as all community members, can go to hone their craft—to practice their lines, recite poetry, sing a song, or play a piece of music.
The convex side incorporates standing, totemic figures that welcome all to join them from across the street—from SOTA and the streets around and beyond. Johnson calls these figures and faces "broken and anxious." For him, they reflect a condition of modern life. He wants everyone to see themselves here—and to find strength in the fact that everyone must confront the challenges and stressors of living in today's world.
The Rashid Johnson Community Pavilion was made possible through the generosity of the Sands Family Supporting Foundation, Douglas S. and Abigail J. Bennett, and Constellation Brands.
10. Nancy Jurs, Emergence, 1995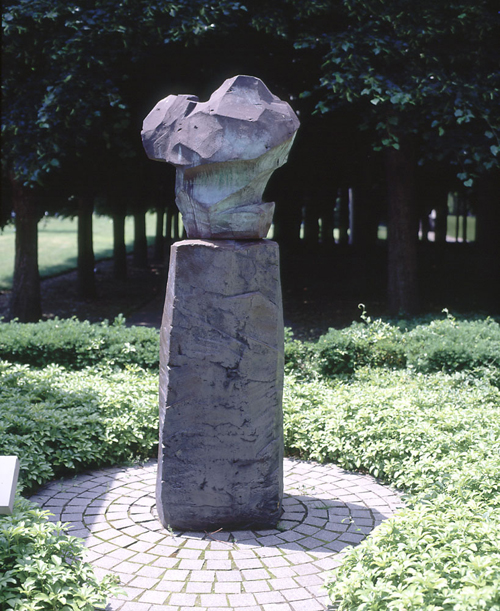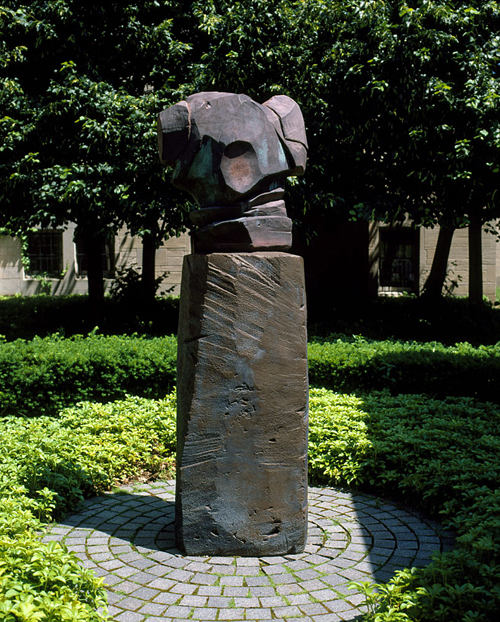 The twin forms of Nancy Jurs' ceramic sculpture Emergence flank the Gallery's main entrance. Hand-built, the clay pedestals and torso-like forms give the appearance of having been weathered over a century. Like many other works in the Centennial Sculpture Park, Emergence rewards viewing from many angles and in many weather conditions—color, texture and patina drawing the eye in new ways with each new look.
Trained in traditional pottery at Rochester, New York's School for American Craftsmen, Nancy Jurs spent the first fifteen years of her artistic career creating functional raku works. In 1980, however, she began to expand the parameters of her ceramics, creating functional wall shelves, or "wall pouches," that suggested butterflies or female forms. These pieces were soon replaced by "blouses" that Jurs considered emblematic of women's bodies and spirit.
The relationship of the clothing-inspired pieces to Greek and Roman draped sculpture led Jurs to experiment with larger-than-life-size sculptural forms that suggest goddesses, women, and animals. The emotionally expressive clay shapes are hand-built or wheel-thrown and are glazed, painted with acrylics, or finished with any combination of techniques that appeals to the artist. "Where all my work was once a many-faceted female expression," Jurs has said, "it now appears to be much more about women in emergence—a growing out, rising above, or hatching from other forms and constraints."
11. Jun Kaneko, Untitled, Dango, 2017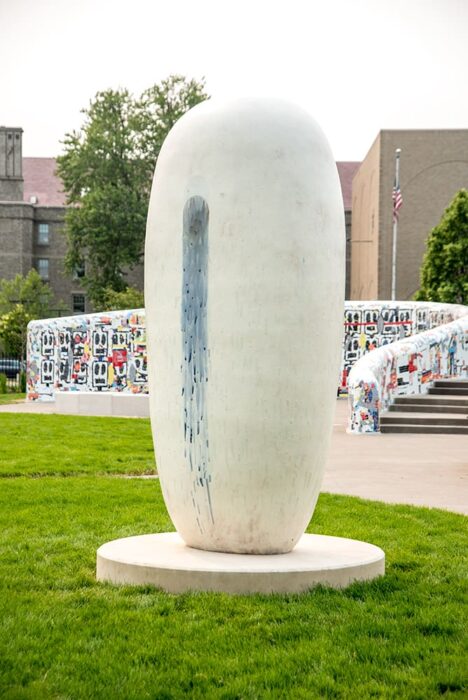 Jun Kaneko's ceramic sculpture provides a serene, meditative presence between Johnson's and Camil's colorful and dynamic works. Untitled, Dango (Japanese for "dumpling") is one in a series of large-scale glazed pieces by Kaneko, an artist drawn to outdoor installations that promote civic interactions. Ceramics Monthly says of his work, "In the unity of physical form and surface pattern, the Dango is like a Pyrenean boulder incised with ancient petroglyphs" and is ". . . a primal form to be explored through variation of detail rather than metamorphosis." Kaneko has completed more than 60 public art commissions.
The Memorial Art Gallery gratefully acknowledges Gwen M. Greene for her generous gift to the Centennial Sculpture Park in memory of her husband, John D. Greene.
12. Nathan Mabry, Process Art (An Eye for An Eye), 2008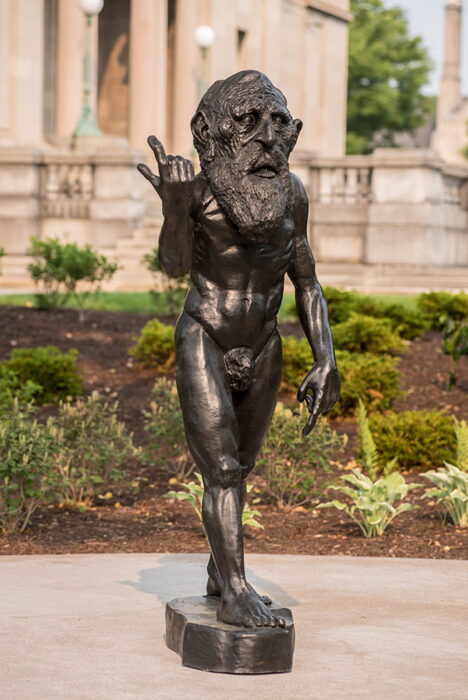 This figure is part of a group of works where Nathan Mabry utilized poorly-made casts of earlier sculptures and enlivened them with masks and exaggerated gestures. Here, Rodin's late-19th-century John the Baptist wears the oversized head of an old bearded man and points with absurdly large fingers. This juxtaposition of solemn and comical, highbrow and low, is something the artist finds useful: "You can have a collision, a fusion, or a confrontation—hopefully all at once—resulting in a heightened level of experience."
13. Todd McGrain, Passenger Pigeon, 2007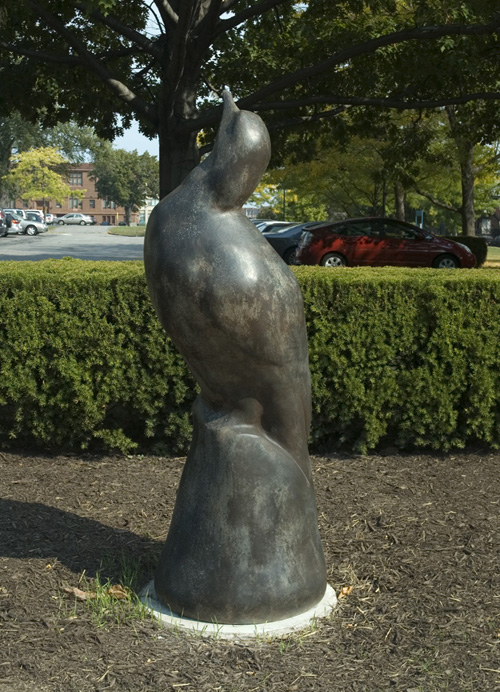 Todd McGrain's Passenger Pigeon turns its head skyward as if watching for its flock to pass overhead. Cast in bronze and over six feet tall, its smooth, rounded surfaces appear worn and handled, evoking something much older than the work's real age. The artist is interested in issues of memory and tribute, and while he was drawn in by the birds' stories, he ultimately realized the beauty in the forms of the birds themselves.
The Passenger Pigeon is part of the artist's Lost Birds series, where McGrain memorializes five species lost to extinction in modern times: the Passenger Pigeon, the Carolina parakeet, the Labrador duck, the Great Auk, and the Heath Hen. Six casts of each bird were made; one of each is permanently installed at a site significant to its lifecycle or extinction. The permanent memorial to the Passenger Pigeon can be seen at the Grange Insurance Audubon Center in Columbus, Ohio, not far from the spot where the last wild Passenger Pigeon was killed.
The Lost Bird Project recognizes the tragedy of modern extinction by immortalizing North American birds, which have been driven to extinction, including the Passenger Pigeon, the Carolina Parakeet, the Labrador Duck, the Great Auk, and the Heath Hen.

The bronze sculptures I am creating will be subtle, beautiful, and hopeful reminders. The human scale of each sculpture elicits a physical sympathy. The smooth surface, like a stone polished from touch, conjures the effect of memory and time. I model these gestural forms to contain a taut equilibrium, a balanced pressure from outside and from inside—like a breath held in. As a group they are melancholy, yet affirming. They compel us to recognize the finality of our loss, they ask us not to forget them, and they remind us of our duty to prevent further extinction.

Todd McGrain, an artist statement on the Lost Birds series
14. Tom Otterness, Creation Myth, 2011-12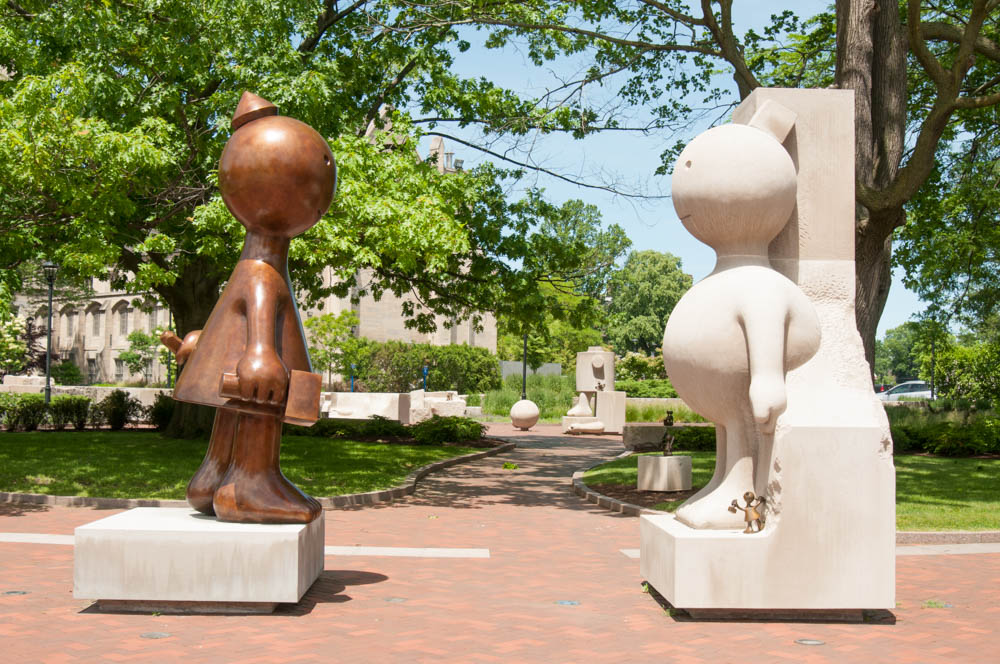 Entering from Goodman Street, the first work you'll see is this site-specific installation composed of a gateway, a sculptor's studio with work in progress, and an amphitheater where you can sit and enjoy the passing scene. All reflect artist Tom Otterness's desire that people feel welcome and comfortable in the Park and in the Gallery.
Creation Myth tells the story of an artist attempting to bring an artwork to life.
I was inspired by creation myths like Pygmalion and Pinocchio and the ancient idea of bringing a sculpture to life. The sculptures also function as a gateway from the outside world into the museum. During the process of developing my proposal, I carefully researched the Memorial Art Gallery collection and architecture. I decided to build a stone monument using the very material that the buildings are made of, and a new material for me—Indiana limestone. I will also use smaller bronze figures to create a double narrative.

Tom Otterness, on bringing a sculpture to life
For most of the component pieces, Otterness has chosen the same Indiana limestone used to build the Gallery. He also scatters more than a dozen small bronze sculptures throughout the installation and entry plaza. Some of these whimsical figures symbolize the sculptor's work, some are simply enjoying the park, and two represent historical figures who championed women's rights—Rochester's own Susan B. Anthony and her great friend Elizabeth Cady Stanton.
15. Albert Paley, Millennium Bench, 2000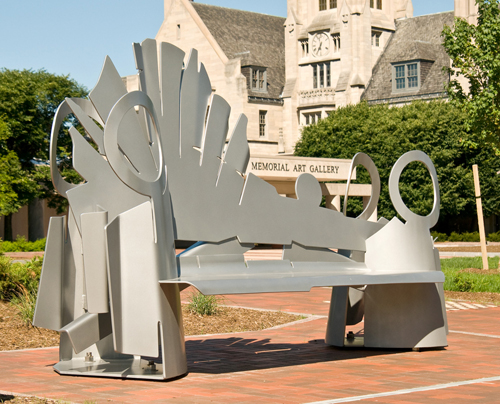 Shortly before the year 2000, MAG Director Grant Holcomb invited sculptor Albert Paley to create a bench to honor the new millenium. Recently, the bench has been re-sited at the University Avenue entrance to the Centennial Sculpture Park. It is a resting place on Poets Walk and also provides a hint of the artistic treasures that await the visitor in the nearby green space.
Recognizably "Paley" with its interlocking and massed steel forms, the bench is at once functional and sculptural, expressive of the range of this masterful artist's work. Organic shapes, like the hand or palm leaf emerging from the back of the bench, combine with geometric elements like the circles and the slotted spots, creating a whirl of visual activity.
16. Albert Paley, Soliloquy, 2012-13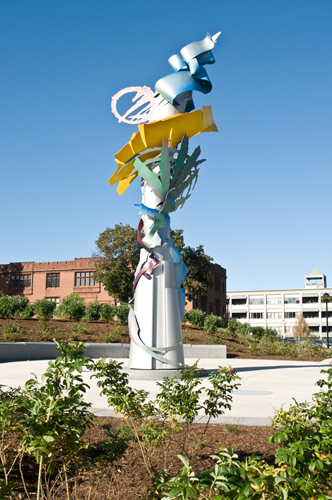 The Memorial Art Gallery commissioned the 25-foot stainless steel sculpture by Albert Paley as one of the anchor installations at Centennial Sculpture Park. The work, titled Soliloquy, was installed at MAG's Goodman Street entrance on September 24, 2013 in the Cameros Family Plaza. Soaring twenty-five feet in the air, the painted stainless steel piece incorporates some of the artist's signature forms – sinuous ribbons fold over on themselves above hard-edged botanical and geometric components. The dynamic work reveals itself as the viewer circles around it. Albert's previous work includes thirteen sculptures spanning from 52nd St – 67th St on Park Avenue in New York City and is titled Paley on Park Avenue.
17. Beverly Pepper, Vertical Ventaglio, 1967-68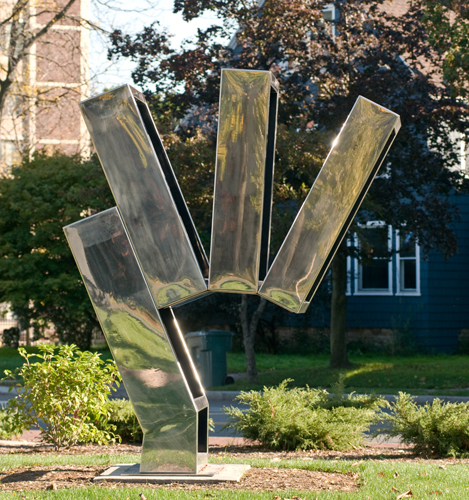 Silver rectangles cascade across space in Beverly Pepper's Vertical Ventaglio. The highly polished exterior surfaces mirror the surrounding environment, while deep blue inner surfaces absorb the light. The interplay between light and dark, reflection and absorption, and implied movement and fixed form is engaging and fascinating.
Trained first as a commercial artist in New York City and then as a painter in Paris, Beverly Pepper did not turn seriously to sculpture until she was in her mid-thirties. As a sculptor, however, she quickly earned an international reputation. In 1961, after only a few years of working three-dimensionally, she was invited with nine other sculptors—among them David Smith, Alexander Calder, and Lynn Chadwick—to create work to be included in Italy's 1962 Festival dei due mondi at Spoleto. The pieces in the Spoleto festival that year were all made in Italian factories, where Pepper first worked extensively with industrial techniques and materials that would become critical elements in her later work. The Spoleto festival was a turning point in her career. Not only did she learn that the factory was an ideal creative environment for her, but she also established herself professionally alongside internationally known sculptors.
Vertical Ventaglio is one of a series of highly polished stainless steel sculptures made between 1967 and 1969. In this series, Pepper explored precipitously balanced arrangements of rectangular and trapezoidal shapes. These open-ended boxlike forms all have reflective chromelike exteriors and colored enamel interiors. With its three cascading rectangles, cantilevered from a diagonal base, Vertical Ventaglio suggests a stop-frame diagram of an object falling through space. Implied movement, as in this piece, is an essential element throughout the series.
18. George Rickey, Two Lines Up Excentric – Twelve Feet, 1994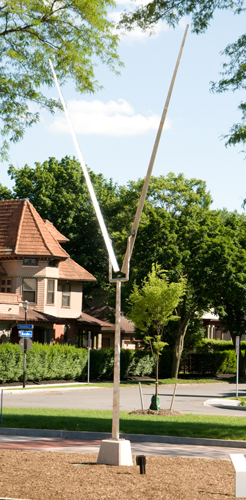 It looks like shiny antennae, gracefully moving and bowing with the air currents. It is eye-catching, fascinating, and absolutely absorbing. It's MAG's kinetic sculpture, which was installed in front of the Gallery entrance in 1994. The work consists of a 10-foot-high stainless steel column topped by two 12-foot-long blades that move independently of each other as the wind nudges them. (No, they never collide!) The stationary shaft of the sculpture is made up of four pieces of steel, welded together to form a hollow column and set in concrete. Lead was poured into the hollow arms, or blades, until a desired balance was achieved. Ball bearings in the sculpture joints permit movement.
George Rickey was born in South Bend, Indiana, in 1907, and educated in Scotland and England. He showed an early aptitude for mechanical devices, inherited perhaps from his father, a mechanical engineer, and his grandfather, a clockmaker. The design of his sculptures lies in the motion rather than the form of each piece. His constructions, he says, "have more in common with clocks than with sculptures." He prefers smooth, slow, changing motion, which the viewer contemplates over time, much as one watches the movement of waves or clouds. Many of his works are in stainless steel, which he or his assistants burnish with a disk grinder in short, random strokes, as can be seen in MAG's piece.
19. Jim Sanborn, Argentum: Double-Positive, 2017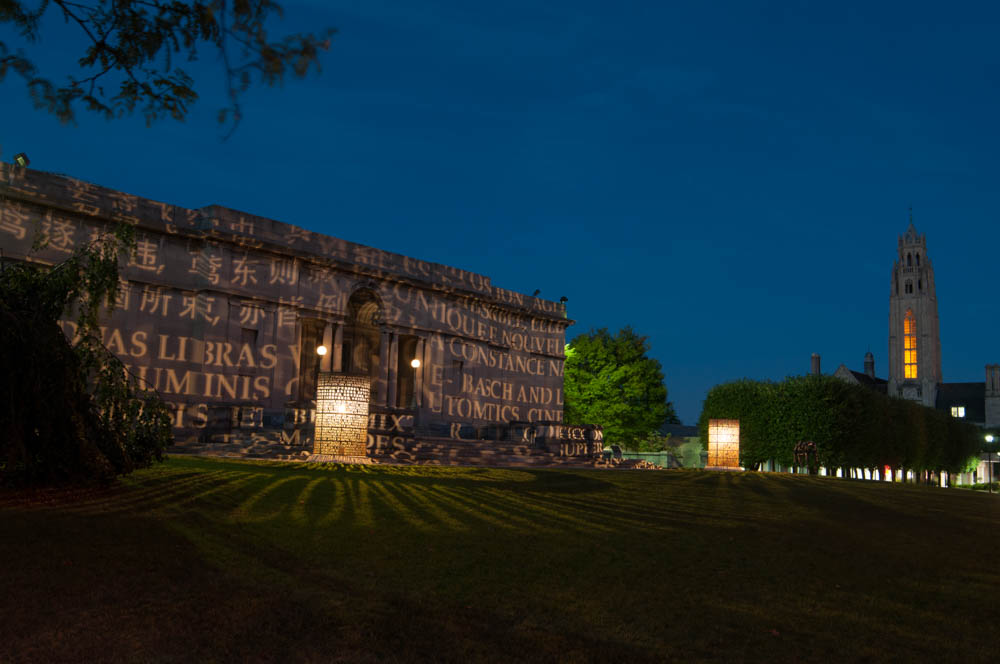 Argentum: Double-Positive by Jim Sanborn consists of two bronze projection cylinders in front of MAG's 1913 building. These cylinders are perforated with a series of texts that light up at night and project onto the facade and surrounding landscape at MAG. The texts highlight the creativity and invention that have been the core industry of the City of Rochester for decades.
Full Installation Text

WHY IS IT THAT WHEN THE SUN PASSES THROUGH QUADRILATERALS, AS FOR INSTANCE IN WICKERWORK, IT DOES NOT PRODUCE A FIGURE RECTANGULAR IN SHAPE BUT CIRCULAR? IS IT BECAUSE THE SUN'S RAYS FALL IN THE FORM OF A CONE AND THE BASE OF A CONE IS A CIRCLE, SO THAT NO MATTER WHAT OBJECT THEY FALL UPON THE RAYS OF THE SUN MUST APPEAR CIRCULAR…

Drawn from Volume 1, Problematica, Book 15, pages 332-335.
Problems, Book 15: Loeb's Classical Library.

ATHENS 350 BCE – This complex text by the Greek scientist/mathematician Aristotle is part of the earliest description and explanation of the camera obscura effect. That effect led eventually to the invention of the photographic camera as we know it.

THE BURNING-MIRROR REFLECTS OBJECTS SO AS TO FORM INVERTED IMAGES. THIS IS BECAUSE THERE IS A FOCAL POINT IN THE MIDDLE (I.E. BETWEEN THE OBJECT AND THE MIRROR). THE MATHEMATICIANS CALL INVESTIGATIONS ABOUT SUCH THINGS KO SHU. IT IS LIKE THE PATTERN MADE BY AN OAR MOVED BY S OMEONE ON A B OAT AGAINST A ROWLOCK (AS FULCRUM). WE CAN SEE IT HAPPENING IN THE FOLLOWING EXAMPLE. WHEN A BIRD FLIES IN THE AIR, ITS SHADOW MOVES ALONG THE GROUND IN THE SAME DIRECTION. BUT IF ITS IMAGE IS COLLECTED THROUGH A SMALL HOLE IN A WINDOW, THEN THE SHADOW MOVES IN THE DIRECTION OPPOSITE TO THAT OF THE BIRD. THE BIRD MOVES TO THE EAST WHILE THE SHADOW MOVES TO THE WEST, AND VICE VERSA TAKE ANOTHER EXAMPLE. THE IMAGE OF A PAGODA, PASSING THROUGH THE HOLE OR SMALL WINDOW, IS INVERTED AFTER BEING 'COLLECTED'.

Drawn from The Dream Pool Essays, Shen Quo, Science and Civilization in China: Volume 4, Physics and Physical Technology, Part 1, page 97, 1962.

ZIBO 1088 CE – This text is drawn from the work of the Chinese philosopher Shen Kuo and is a discussion of the camera obscura effect created by the concave mirror used in China to start a fire.

TAKE TWO POUNDS OF ROMAN VITRIOL, TWO POUNDS OF SALTPETER AND ONE POUND OF CALCINED ALUMEN. PULVERIZE THEM WELL, MIX THEM PERFECTLY AND PLACE THEM ON A GLASS ALEMBIC; DISTILL ACCORDING TO THE RULES, SEALING WELL THE JOINTS SO THAT THE SPIRITS WON'T RUN AWAY. BEGIN WITH A GENTLE FIRE AND THEN A LITTLE STRONGER. HEAT IT THEN STRONGLY SO MUCH AS TO MAKE THE DEVICE TURN WHITE AND THE SPIRITS DISTILL. CEASE YOUR FIRE AND LET THE OVEN COOL DOWN; PUT THIS WATER CAREFULLY ASIDE, BECAUSE IT DISSOLVES LUNA (SILVER) AND SEPARATES IT FROM GOLD, CALCINES MERCURY AND THE FLOWERS OF MARS; IT TRANSMITS A BROWNISH COLOR TO SKIN WHICH IS DIFFICULT TO REMOVE.

Drawn from Albertus Magnus, Compositum de Compositis ("Compound of compounds") 1331 CE, P. Kibre, Alchemical writings ascribed to Albertus Magnus, page 506, item 8.

COLOGNE 1250 CE – This text from the work of the German alchemist Albertus Magnus describes his discovery of silver nitrate and its photosensitive properties.

I SAY THAT IF THE FRONT OF A BUILDING – OR ANY OPEN PIAZZA OR FIELD – WHICH IS ILLUMINATED BY THE SUN HAS A DWELLING OPPOSITE TO IT, AND IF, IN THE FRONT WHICH DOES NOT FACE THE SUN, YOU MAKE A SMALL ROUND HOLE, ALL THE ILLUMINATED OBJECTS WILL PROJECT THEIR IMAGES THROUGH THAT HOLE AND BE VISIBLE INSIDE THE DWELLING ON THE OPPOSITE WALL WHICH MAY BE MADE WHITE; AND THERE, IN FACT, THEY WILL BE UPSIDE DOWN, AND IF YOU MAKE SIMILAR OPENINGS IN SEVERAL PLACES IN THE SAME WALL YOU WILL HAVE THE SAME RESULT FROM EACH.

Drawn from Leonardo da Vinci, Codice Atlantico, 1478 to 1519.

FLORENCE 1486 CE – This text written by Leonardo da Vinci further describes the operation of the Camera Obscura, the precursor to the still camera.

WHITE PAPER, OR WHITE LEATHER, MOISTENED WITH SOLUTION OF NITRATE OF SILVER, UNDERGOES NO CHANGE WHEN KEPT IN A DARK PLACE; BUT ON BEING EXPOSED TO THE DAYLIGHT, IT SPEEDILY CHANGES COLOUR, AND AFTER PASSING THROUGH DIFFERENT SHADES OF GREY AND BROWN, BECOMES AT LENGTH NEARLY BLACK. THE ALTERATIONS OF COLOUR TAKE PLACE MORE SPEEDILY IN PROPORTION AS THE LIGHT IS MORE INTENSE. IN THE DIRECT BEAMS OF THE SUN, TWO OR THREE MINUTES ARE SUFFICIENT TO PRODUCE THE FULL EFFECT. IN THE SHADE, SEVERAL HOURS ARE REQUIRED.

Drawn from Journal of the Royal Institution in Great Britain in 1802 by Sir Humphry Davy, An Account of a method of copying Paintings upon glass, and of making Profiles, by the agency of Light upon Nitrate of Silver. Invented by T . Wedgwood, Esq. With Observations by H. Davy.

DORSET 1790 CE – This text is a description of Thomas Wedgwood's use of silver nitrate in the first attempt to produce a photographic image. While the image was in fact produced, it eventually faded away.

ARTICLE I. PEACE AND FRIENDSHIP ARE HEREBY FIRMLY ESTABLISHED, AND SHALL BE PERPETUAL, BETWEEN THE UNITED STATES AND THE SIX NATIONS. ARTICLE II. THE UNITED STATES ACKNOWLEDGE THE LANDS RESERVED TO THE ONEIDA, ONONDAGA AND CAYUGA NATIONS, IN THEIR RESPECTIVE TREATIES WITH THE STATE OF NEW-YORK, AND CALLED THEIR RESERVATIONS, TO BE THEIR PROPERTY; AND THE UNITED STATES WILL NEVER CLAIM THE SAME NOR DISTURB THEM OR EITHER OF THE SIX NATIONS, NOR THEIR INDIAN FRIENDS RESIDING THEREON AND UNITED WITH THEM IN THE FREE USE AND ENJOYMENT THEREOF: BUT THE SAID RESERVATIONS SHALL REMAIN THEIRS, UNTIL THEY CHOOSE TO SELL THE SAME TO THE PEOPLE OF THE UNITED STATES, WHO HAVE THE RIGHT TO PURCHASE.

This Onondowagah translation from the English was performed by Jamie Jacobs, Turtle Clan, Tonawanda Seneca Nation.

CANANDAIGUA 1794 CE – This text is a translation in the Onondowagah language of the first two of the seven Articles of the Treaty of Canandaigua. This treaty allowed for the subsequent purchase of land for the City of Rochester.

ON ARRIVING AT THE FALLS I CALLED ON ENOS STONE AND INTRODUCED MYSELF AS BEING IN SEARCH OF A LOCATION IN THE WESTERN WILDS FOR MYSELF AND MY LITTLE FAMILY. MR. STONE REPLIED THAT MSSRS. ROCHESTER, CARROLL AND FITZHUGH HAD APPOINTED HIM AS THEIR AGENT TO DISPOSE OF THE LOTS IN THE VILLAGE OF ROCHESTERVILLE, WHICH INSTEAD OF INHABITANTS, CONSISTED ONLY OF TREES.

This text was paraphrased from the private diary of Abelard Reynolds cited in the Semi-centennial History of the City Of Rochester, by William F. Peck, 1884, page 100.

ROCHESTERVILLE 1812 CE – When Col. Nathaniel Rochester, William Fitzhugh, and Major Charles Carroll purchased a property called the "Hundred Acre Tract" or "The Mill Site" on the west side of the Genesee river in 1803 for $17.50 per acre, the population of the area at that time was 15. That year Col. Rochester began the process of establishing a village on this tract. He laid out streets and plots of land for business use and later that year, he began to offer the plots for sale and named the would-be settlement "Rochesterville" after himself.

LIGHT, IN ITS STATE OF COMPOSITION AND DECOMPOSITION, ACTS CHEMICALLY UPON BODIES. IT IS ABSORBED, IT COMBINES WITH THEM, AND COMMUNICATES TO THEM NEW PROPERTIES. THUS IT AUGMENTS THE NATURAL CONSISTENCY OF SOME OF THESE BODIES: IT SOLIDIFIES THEM EVEN, AND RENDERS THEM MORE OR LESS INSOLUBLE ACCORDING TO THE DURATION OR INTENSITY OF ITS ACTION. SUCH, IN A FEW WORDS, IS THE PRINCIPLE OF THE DISCOVERY.

The English is drawn from The History and Practice of Photogenic Drawing on the true Principles of the Daguerreotype, by tl1e inventor L.J.M. Daguerre, translated from the original by J.S. Memes, LL.D., 1839.
The French is drawn from Historique et description des procédés du daguerréotype et du diorama by Daguerre, Louis Jacques Mandé; Arago, François; Gay-Lussac, Joseph Louis; Niépce, Nicéphore, 1839.

PARIS 1838 CE – This text by the inventor of the Daguerreotype describes the property of light to effect chemical changes in certain materials. This fact allowed the development of photographic film and the camera.

UNICUMS, AUTOMATS, VICTORS, AUTOMATICS, CINEMASCOPES, CONVERTIBLE BALOPTICONS, ROTARY MICROTOMES, AERO TESSARS, PLANARS, SUPER BALTARS, ANASTIGMATS, MACROS, PROTARS , SONNARS, RAPID RECTILINEARS, PLANATOGRAPHS, ANIMARS, ANAMORPHICS, ANIMAR BALCOTES & ELEGEETS, CINES, WIZARD SR'S, COOKE TRIPLETS, ZOOMS, PROJECTORS, TELESTIGMATS, TELECONVERTERS, STEREO ZOOMS, RATARS, SUPER CINEPHORS, PARABOLOID..

Drawn from Bausch and Lomb Catalogs.

ROCHESTER 1853 CE – In 1853 optician John Jacob Bausch and financier Henry Lomb established the massive optics firm Bausch and Lomb in Rochester, New York and patented and continue to produce hundreds of optical products, from camera shutters to lenses to contact lenses and eye care products. This is a partial listing of these products.

MAN IS THE ONLY PICTURE MAKING ANIMAL IN THE WORLD. HE ALONE OF ALL THE INHABITANTS OF THE EARTH HAS THE CAPACITY AND PASSION FOR PICTURES…. POETS, PROPHETS, AND REFORMERS ARE ALL PICTURE-MAKERS, AND THIS ABILITY IS THE SECRET OF THEIR POWER AND ACHIEVEMENTS: THEY SEE WHAT OUGHT TO BE BY THE REFLECTION OF WHAT IS, AND ENDEAVOR TO REMOVE THE CONTRADICTION.

MEN OF ALL CONDITIONS AND CLASSES CAN NOW SEE THEMSELVES AS OTHERS SEE THEM AND AS THEY WILL BE SEEN BY THOSE [WHO] SHALL COME AFTER THEM. WHAT WAS ONCE THE SPECIAL AND EXCLUSIVE LUXURY OF THE RICH AND GREAT – IS NOW THE PRIVILEGE OF ALL.

Drawn from the handwritten papers of Frederick Douglass at tl1e Library of Congress, Paragraph 1: Pictures 1864; Paragraph 2: Pictures and Progress, 1863, pages 7 -8.

ROCHESTER 1864 CE – This text, discussing the importance of photography, was written by the activist, scholar, and long time resident of Rochester, NY, Frederick Douglass.

MISS ANTHONY ENTERED THE UNITED STATES COURT ROOM AT HALF PAST 10 O'CLOCK THIS MORNING . … AND TOOK HER SEAT, WITH RAISED VEIL… THE LADY WAS DRESSED IN A DARK PURPLE FROCK, DARK CLOTH CLOKE, RED SCARF, BLACK BONNET, PLAID COMFORTER, AND GOLD SPECTACLES. SOME SLIGHT STREAKS OF GRAY APPEARED IN HER DARK BROWN HAIR, BUT HER FACE SHOWED NO WRINKLES…

Drawn from The Rochester Democrat And Chronicle, Saturday, January 11, 1873, Daily Edition, page 4.

ROCHESTER 1873 CE – This detailed newspaper description of the appearance of Susan B. Anthony at her arraignment for illegally voting (because she was a woman) in Rochester, New York is all that we have of the scene of the event because no photographs were taken. In 1873, the use of photography to describe such momentous events had not yet evolved as a news gathering tool, this was soon to change.

THE OBJECT OF MY INVENTION IS TO FACILITATE TAKING A NUMBER OF PHOTOGRAPHIC VIEWS SUCCESSIVELY AND IN A SHORT TIME." "THE ADVANTAGES WHICH MY IMPROVED SENSITIZED FILMS POSSESS OVER THE ORDINARY GLASS DRY PLATES ARE TOO OBVIOUS TO REQUIRE DESCRIPTION AND THE OPERATIONS NECESSARY TO SECURE THE DESIRED IMAGE BY THE USE OF MY IMPROVED FILMS ARE SO SIMPLE AS TO BE READILY LEARNED BY THE MOST INEXPERIENCED PERSON." … "YOU PRESS THE BUTTON, WE DO THE REST.

Drawn from The Patents of David Houston and George Eastman in U.S. Patent Office Files.

ROCHESTER 1888 CE – In 1888, George Eastman invented the "Kodak" Patent# 388,850. This was the first camera to use silver-based roll film that could quickly take successive photographs without removing the film from the camera. Three patents formed the basis for this revolutionary design.
20. William Sellers, Converging Cubes, 1968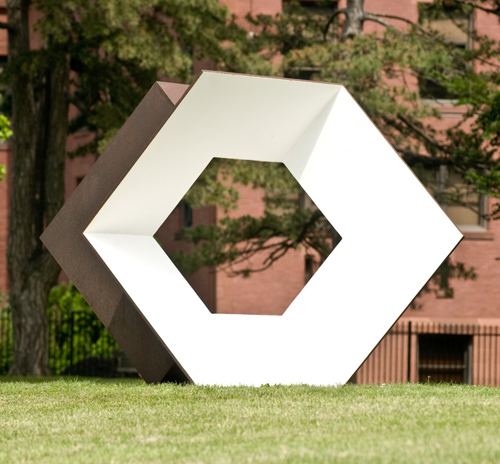 William Sellers's work can best be appreciated by walking around it at least several times to experience its optical illusions. It changes shape, flattens out and then returns to three dimensions so quickly that it is difficult to grasp any one 'snapshot' as the real, or correct viewing angle. While the painted and rusted corten surfaces are flat, they are assembled in such a way that they imply the intersection of a cube with a cube, resulting in a negative space at their convergence, itself a transparent cube-like form.
21. William Sellers, Six Cubes, 1966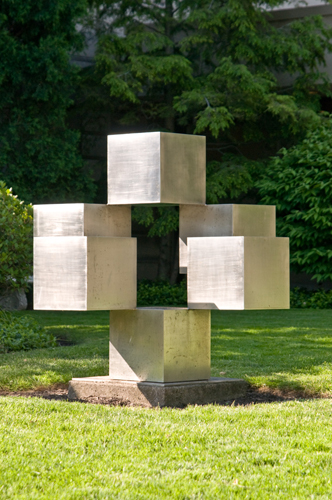 Six stainless steel cubes balance in space, appearing to defy the laws of gravity. While the cubes themselves are fixed in place, by walking around the work, the viewer can experience a change in their relationship with each other as well as a change in the proportions of the negative space in the center. William Sellers' work is related to the kinetic work of George Rickey, seen nearby, as they both incorporate movement in their fullest expression – in Sellers' case, the movement of the viewer, and in Rickey's case, the movement of the elements themselves.
Hailing from Detroit, Sellers received his BA and his MFA from the University of Michigan, but moved to Rochester after graduation to teach at Rochester Institute of Technology and the University of Rochester. From there, he transitioned into being a project manager and fabricator for his long-time friend and colleague, Wendell Castle. A sculptor for the majority of his career, later in life Sellers switched to painting as his medium of choice and produced a large body of work that survives him today.
22. Tony Smith, Playground, 1962-66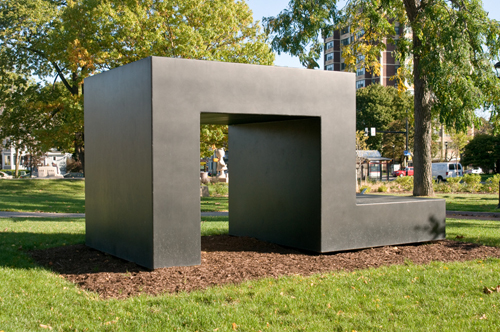 …in my opinion, he represents the best of minimal sculpture of the '60s, whose works are sometimes referred to as 'primary structures.' These works are modular forms of great mass and formal dignity but simple in conception… To me, his sculptures also have a tremendous monumentality, which gives them the presence of ancient forms—in our case, a great claw which has survived from some earlier civilization.

Excerpt from a letter from Harris K. Prior, MAG Director in 1970
Tony Smith's father and grandfather ran an iron foundry in New Jersey. He himself was trained as an architect and practiced architecture for a number of years. These two factors account in part for his love of "black iron" in its natural state as it comes from the rolling mill, and for his block-like forms based on 90° and 30° – 60° angles. Allied with the minimalist school, Smith worked with simple geometrical modules combined on a three-dimensional grid, creating drama through simplicity and scale.
23. Mary Taylor, Filly, 2008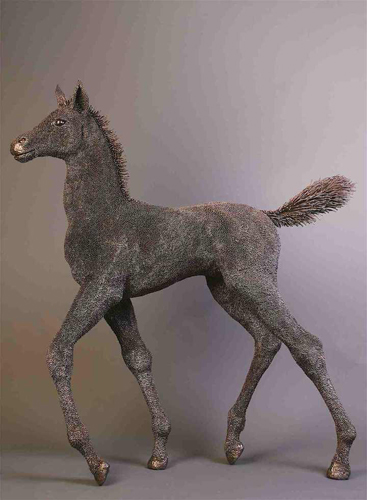 A prancing Filly welcomes visitors to MAG from her post near the Creative Workshop entrance. She is one of sculptor Mary Taylor's extensive menagerie of lifelike animals. Thanks to Taylor's meticulous process, daylight sparkles across and through Filly. Like many of Taylor's sculptures, Filly began as a form to which stainless steel rods of varying lengths were welded, creating her coat and tail. After the many thousands of small pieces were attached, the artist painted the sculpture and applied an automotive clear coat for additional protection.
Mary Taylor was born in Rochester, New York. After years spent working and living in California, she returned to her roots and currently works from her studio in Honeoye Falls, New York. Hailing from a family of artists and ornithologists, Taylor combines these passions by creating heart-stoppingly realistic birds and animals that recall the beauty and fragility of the natural world. Taylor studied at American University, Washington DC, University of the Pacific, Stockton, CA, and School for American Craftsmen, Rochester Institute of Technology.
24. Blanca Will, Penguins, 1926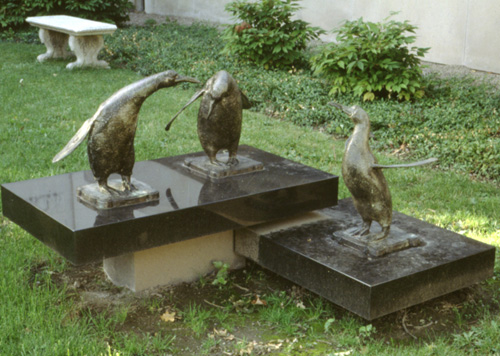 In the mid-1920s, Rochester artist Blanca Will accepted a commission from noted architect Claude Bragdon to design a fountain for Highland Park. Then, with the economic crash of 1929, the Penguin Fountain project ground to a halt. Molds for the four individual birds and family group came to rest in the attic of Will's niece Barbara Reichart, where they gathered dust for many years.
Through the efforts of Mrs. Reichart, a former Gallery Council president, and her family, three of Blanca Will's penguins were finally cast in bronze and given a new home on the grounds of the Memorial Art Gallery. The setting is particularly fitting, as Will served the Gallery for more than ten years in the 1920s and 1930s as the Gallery's director of art education and a much-loved teacher.
Born in Rochester, Will studied art at the Mechanics Institute (later the Rochester Institute of Technology), in Europe, and at Smith College, where she received a fine arts degree. During her long career as an artist, her many awards included the University of Rochester's prestigious Lillian Fairchild Award for Penguin Fountain.
25. Albert Leon Wilson, Woman with Curlers, 1974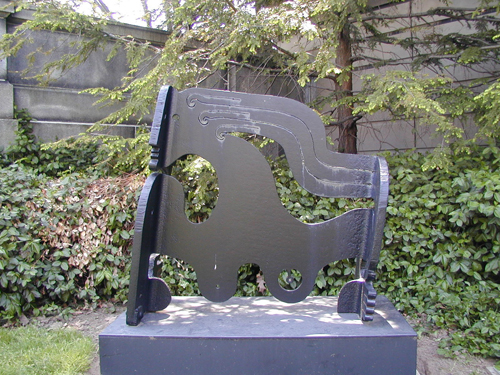 Woman with Curlers uses all surfaces of the I-beam in a way reminiscent of Picasso, creating a profile of a face from one flange, or outside of the I-beam, flowing hair and breasts from the web, or inner portion of the I-beam, and a hand from the other flange. Perhaps to add additional dynamism to an already energetic design, Wilson cut the I-beam on the diagonal, drawing the viewer's attention in an organic way initially to the face, then the hair, and finally, the hand.
As the self-described 'Man of Steel,' Al Wilson made his mark in the art world with graceful, witty sculptures cut from I-beams. He looked at the industrial form of the I-beam and aw the body of a voluptuous woman. He looked at cold metal and saw warm, whimsical animals. He told a reporter a few months ago: 'Creativity begins with the eye and not with the mind. It is the end result of being very observant and curious about life and things.'

Diana L. Tomb, in a November 16, 1993 Democrat & Chronicle article