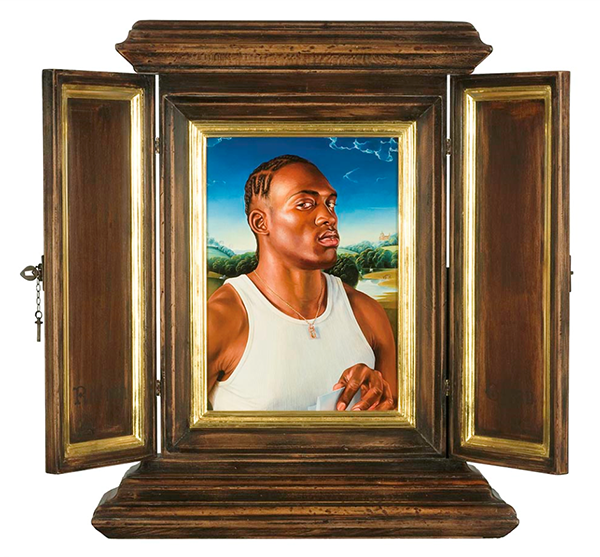 Since its founding in 1913, the Memorial Art Gallery's (MAG) collection has grown to more than 13,000 works of art. Representing cultures from around the world and across millennia, the permanent collection is renowned for its breadth and its quality.
Exhibited on the first floor are the museum's collections of Indigenous art from Africa, Oceania, and the Americas, including a major work by Yoruba sculptor, Olowe of Ise. The collection of American art is also featured in galleries throughout the first floor and ranges from the colonial period to the present. Highlights include 19th-century paintings by artists including Asher B. Durand, Winslow Homer, and Lily Martin Spencer; early 20th-century works by artists including Thomas Hart Benton, Elizabeth Catlett, Stuart Davis, Jacob Lawrence, Georgia O'Keeffe, and John Sloan; a major collection of sculptures by Gaston Lachaise; and late-20th century masterworks by Josef Albers, Helen Frankenthaler, Hans Hofmann, Isamu Noguchi and Jackson Pollock. MAG's folk and decorative arts collection includes early Rochester-area portraits by itinerant artists, vernacular sculpture, trade signs and weathervanes, and a Grandma Moses landscape.
MAG's extensive collection of Greek, Etruscan, Roman, and Egyptian works is explored in the Helen H. Berkeley Gallery of Ancient Art on the second floor. One highlight is an important set of Egyptian coffins made for the nobleman Pa-debehu-Aset. The At the Crossroads gallery brings together works from the ancient Middle East and the Islamic world. The nearby Asian Art gallery showcases paintings, sculpture, and decorative arts of all eras, including a rotating selection of Chinese and Japanese scrolls, Indian miniature paintings, and Japanese prints. In fact, MAG's holdings of prints, drawings, photographs, and books and manuscripts form almost half of the permanent collection.
The medieval collection includes textiles, sculpture, painting, and metalwork from European Christendom. Renaissance works include paintings by Tintoretto, Raffaellino del Garbo, and Girolamo Mazzola Bedoli, while the Italian Baroque era is represented by paintings by van Dyck, El Greco, and Luca Giordano. The 17th-century Dutch and Flemish collection contains Old Master paintings, prints, and decorative arts. Many of the paintings belonged to Kodak founder George Eastman, including MAG's iconic Rembrandt portrait. The 18th-century collection is particularly strong in British and French portraiture, while the 19th-century collection features academic and Impressionist masters as well as work from the Barbizon and Hague schools. Masterpieces by William-Adolphe Bouguereau, Claude Monet, Paul Cezanne, and Henri Matisse are visitor favorites.
In 2013, the Centennial Sculpture Park enhanced MAG's public face with four site-specific commissions by Wendell Castle, Jackie Ferrera, Tom Otterness and Albert Paley. In the summer of 2017, a light sculpture by Jim Sanborn based upon the history of imaging, photography, and Rochester was installed on the grounds. The extension of the Centennial Sculpture Park, which opened in the spring of 2023, features work by artists including Sanford Biggers, Pia Camil, Jun Kaneko, and Rashid Johnson.
Under director Jonathan Binstock, who started in 2014, MAG's collection of modern and contemporary art has grown significantly, with acquisitions by such artists as Nick Cave, George Condo, Beauford Delaney, Monir Farmanfarmaian, Rashid Johnson, Hung Liu, Cannupa Hanksa Luger, Grayson Perry, Judith Schaechter, and Mickalene Thomas. These acquisitions reflect MAG's commitment to extending historical and aesthetic narratives already present in the collection, and to increasing the representation of artists of color and women artists. In 2016, MAG began to build a collection of time-based media, including commissioned work by Isaac Julien and Javier Tellez, and acquisitions of videos by artists including Charles Atlas, Sky Hopinka, Nam June Paik, Sondra Perry, and Bill Viola.
Like most museums founded in the 19th and early 20th centuries throughout the U.S., MAG's collections placed the arts of Europe and upper-class America at the forefront. A product of their time, these collections were to a great extent shaped by the historical inequities created by systemic colonialism, racism, and sexism. To learn more about how MAG is working to address these challenges, see our DEAI page on the permanent collection.